What you need before you start:
Ensure that the computer meets the minimum system requirements for Security Services
Subscription to Internet Security Services service, and have received the Sign-Up letter via e-mail (or the CD on the mail for Dial-Up subscribers) informing you that your service is active
Your username and password for Internet Security Service (needed for the install process)
If you are not sure whether or not your service is active yet, contact us
Please note: You will need to uninstall other security software in order to use Internet Security Services.
Follow these easy steps
REMEMBER: Security Services v9 only works with Windows XP, Windows Vista, or Windows 7. Windows 98 or ME users can use version 5.5 by going to http://www.bellaliant.net/freedom and clicking the Security Services icon next to "Downloads v5.5 (98,ME users)". Do not attempt to install Security Services v9 on Windows XP 64-bit Operating System.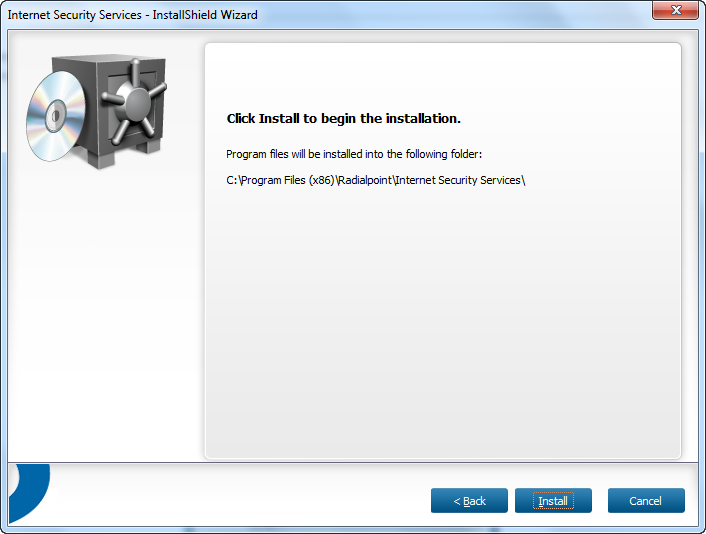 Click Next
Scroll down, and click Download Now
Click OK on warning to uninstall other security software.

Click Open [Win2000/XP] or Run [WinVista, Win7].

Wait a few moments as a copy of the installer is downloaded.

Note: The next couple of steps will vary depending on your operating System and web browser you are using. Continue the installation process by clicking when needed.

Select the language (English or Français) and click OK.

Click Next

Select I accept the license agreement, then click next

Click Install
Click Finish

Select your preferred download language, click Download.

This step may take up to 10 minutes to download the Security Services application to the PC - there is a progress bar.
Click Next
If you do not wish to submit setup and program information, remove the check from the Yes, submit setup and program information box.

Select I accept the license agreement, then click Next.
Click Install
Internet Security Services will now install on your computer. The installation complete screen appears when the process has been finished. Make sure you have saved any work you were doing as your computer will need to restart to finish the software installation. When you are ready, click Restart

After the computer restarts, you may be prompted to allow access for Windows Media Player through the firewall. Click Allow.
Enter your Internet Security Services username & password and click Next. (Please note: The computer must be connected to the Internet for this step)

Bell Aliant Security Services is now installed and ready to use.